Oatmeal Crusted Chicken with Oatmeal Vegetable Pilaf and Brussel Sprouts
Oatmeal/ Banana/ Peanut Butter Protein Squares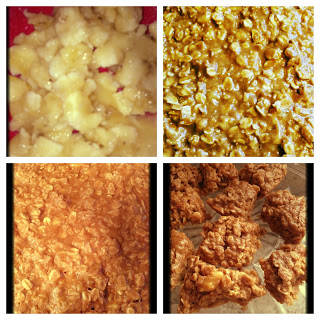 Ingredients:
1 & 1/2 cups of old fashioned oats
1/4 cup of stevia/brown sugar blend
1 teaspoon of baking powder
1/2 teaspoon of sea salt
1 teaspoon of cinnamon
1 teaspoon of vanilla extract
1/2 cup of almond milk
1 Large mashed banana
1 large egg, lightly beaten
1/4 cup of creamy natural Jiff peanut butter
Directions:
Mix together the oats, brown sugar, baking powder, salt, and cinnamon
Add in the vanilla extract, milk, and egg
Mix the ingredients together
Add in the mashed banana and peanut butter
Mix the ingredients together
Pour the mixture into a lightly greased 8x8 baking pan.
Bake at 350 degrees for 20 min
Cool and cut into squares
Makes 12-14 squares
ENJOY!
10 grams of protein per square
6 grams of carbohydrates
4 grams of sugars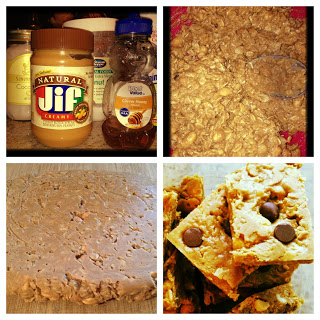 Ingredients:
1/2 cup of Natural Jiff Peanut Butter
1/3 cup of honey
1 tablespoon of Agave Nectar
1/4 cup of coconut oil
1 1/2 cup of Old fashioned oats
1 1/2 tablespoons wheat germ
1/2 scoop of chocolate whey protein powder
1/2 cup of ground flax seed
1/4 cup of dry roasted peanuts
1/4 cup of dark chocolate chips
Directions:
Melt peanut butter, honey and coconut oil together in a small sauce pan over low/medium heat, stirring constantly. It only takes a minute or two to melt.
In mixing bowl, combine all other ingredients except for chocolate chips, and stir well.
pour liquid mixture over dry mixture and stir until well combined
Let cool in bowl for several minutes
Place mixture into foil lined 8x8 pan and press down firmly.
Sprinkle chocolate chips over top and press down firmly with hands.
Place in Fridge or Freezer to set
Flip the foil out onto cutting board and cut into desired bar sizes.
ENJOY!
12 grams of protein per bar
4 grams of carbohydrates
2 grams of sugar
Makes 12-14 bars