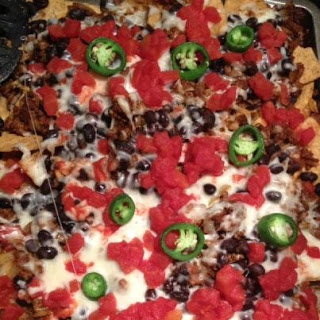 6 -8 servings
Ingredients:
1 pound ground turkey
2 cloves garlic, chopped
freshly ground black pepper to taste
2 teaspoons crushed red pepper flakes
2 tablespoons chopped fresh chives
2 tablespoons hot sauce
1 (14 ounce) can black beans (rinsed)
1 (14.5 ounce) package whole grain tortilla chips
2 cups shredded Mozzarella Cheese
1 ripe tomato, diced
1 jalapeño pepper
My dry fajita seasoning-
2 teaspoons chili powder
1 teaspoon sea salt
1/4 teaspoon ground cumin
1 teaspoon paprika
1/4 teaspoon garlic powder
1/2 teaspoon onion powder
1/4 teaspoon cayenne chipotle powder
1 tablespoon of corn starch
Combine all ingredients in a bowl and whisk together- is equivalent to one pre made packet
Directions:
Preheat oven to 350 degrees F (175 degrees C).
In a large skillet over medium heat, begin to brown the ground turkey.
Stir in garlic, pepper, 1 teaspoon red pepper flakes, and 1 tablespoon chives. Stir in 1 tablespoon hot sauce.
When the turkey is browned, stir in fajita seasoning mix.
Pour the beans into a microwave safe bowl, and heat in the microwave until softened.
Stir in 1 tablespoon chives and 1 tablespoon hot sauce.
Spread the whole grain tortilla chips across the bottom of a baking sheet. Spoon the beans mixture over the chips.
Then spread the turkey mixture across the top.
Sprinkle cheese and remaining 1 teaspoon of crushed red pepper flakes over the top.
Top with Diced tomatoes and fresh jalapeño slices
Bake in preheated oven until cheese is melted, about 12-15 minutes
Prep Time: 15 min
Cook Time: 12 min
Total time: 27 minutes See More