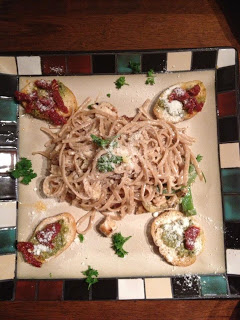 Ingredients:
1 cup 1% low-fat milk (skim may be used, but creates a thinner sauce)
1 1/2 tablespoons butter (made with olive oil)
1 1/2 tablespoons whole wheat flour
3 tablespoons parmesan cheese
1/2 teaspoon minced garlic
1/2 tsp of pepper
1 tsp of sea salt
Whole grain Fettuccine noodles
2 boneless chicken breasts (cut into strips)
3 tablespoons of olive oil
1 bell pepper- cut into slices
1/2 cup of thin sliced mushrooms
1 squash- cut into thin slices
1 tsp of basil
Directions:
Alfredo Sauce-
1
The key here is patience, add all ingredients gradually!
2
Melt butter in sauce pan on stove top with medium heat.
3
Gradually whisk in flour.
4
This will create a yellow paste.
5
Gradually add milk, whisking until incorporated and no lumps are present.
6
Continue to whisk until hot.
7
Usually 3-5 minutes.
8
The longer you cook the base (without the cheese) the thicker the sauce will be.
9
Add parmesan slowly, again whisking until incorporated.
10
Add crushed garlic and pepper.
11
Cook for 2 minutes or until cheese is melted.
12
Remove from heat.
Cook Whole Grain Fettuccine as directed, rinse and set to side
Chicken-
In a skillet- heat 3 tablespoons of olive oil over medium heat.
Add in chicken and parsley
Sauté chicken until lightly browned after 5 min, toss in squash, bell pepper, and mushrooms
Sauté until vegetables become soft
Enjoy!l