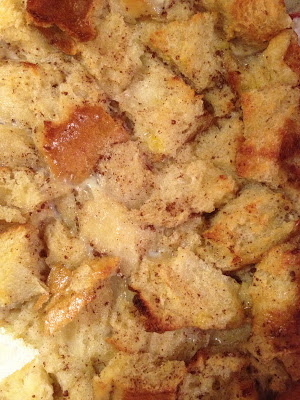 Cindy's Healthy Bread Pudding
Ingredients
6 slices of 1 day old Whole Grain Bread or Wheat Bread
2 cups of Skim Milk
2 Tablespoons of Butter or Margarine (melted)
4 Eggs (Beaten)
3/4 cup of baking Stevia
1 teaspoon ground cinnamon
1 teaspoon vanilla extract
1/2 cup of raisins (optional)
Preheat oven 350 degrees
Break bread into small pieces into an 8" square glass baking dish
Drizzle melted butter or margarine over bread. If desired, sprinkle with raisins.
In a medium mixing bowl, combine eggs, milk, sugar, cinnamon, and vanilla. Beat until well mixed. Pour over break, and lightly push down with a fork until all the bread is submerged
Bake in oven for 45 minutes
Enjoy and share with others!